Artist Legacy and Estate Planning Capsule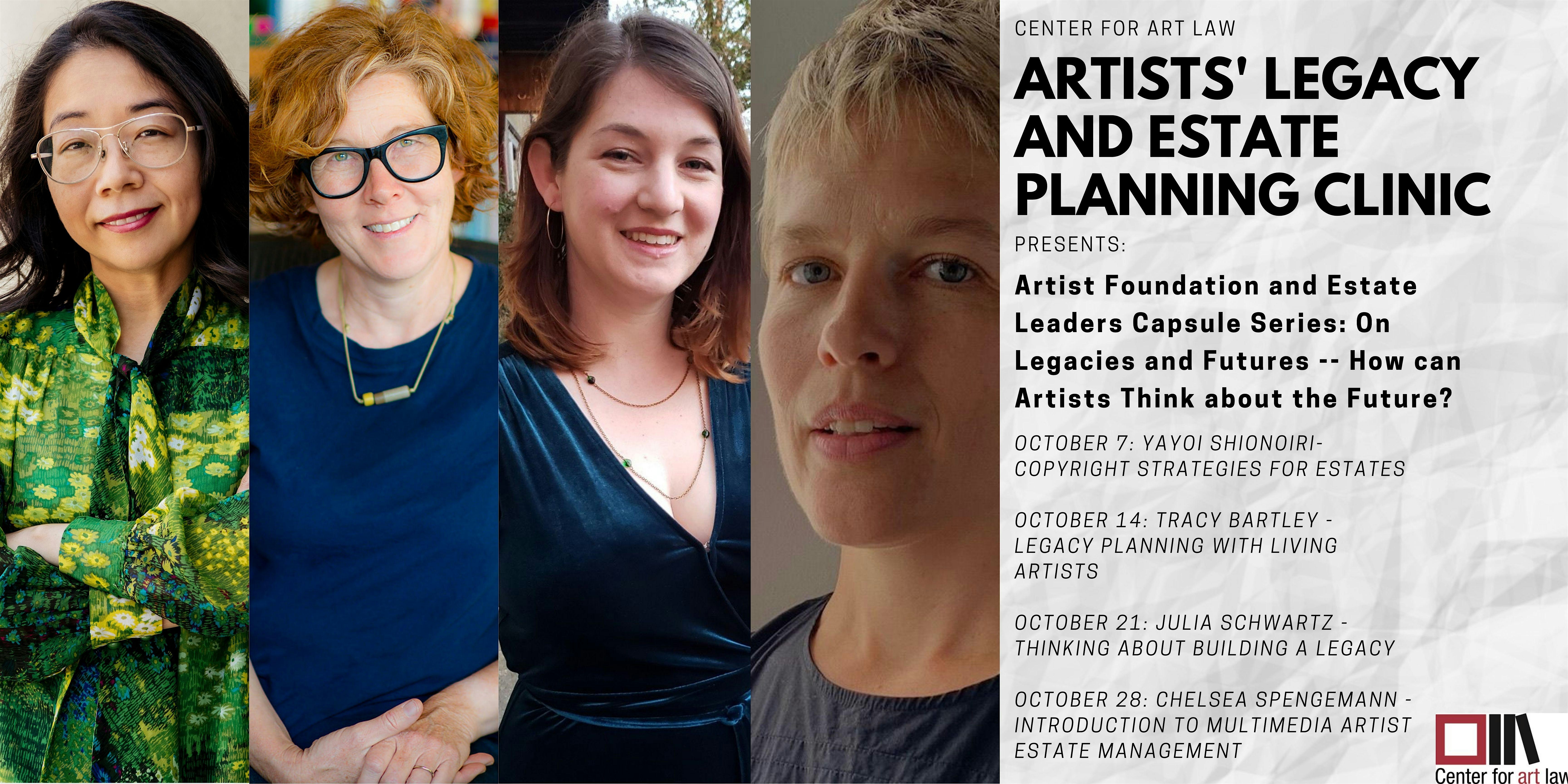 Artist Foundation and Estate Leaders Capsule Series: On Legacies and Futures — How can Artists Think about the Future?
Artist endowed foundations and artist estates are a growing part of the ecology of the arts. This four part seminar brings together leaders of artist-endowed foundations and estates to share ideas and think together about artists and their futures.
The events in this series occured as follows:
Part 1: Yayoi Shionoiri- Copyright Strategies for Estates
Chris Burden (1946-2015) was an American artist who worked in a variety of mediums including performance, sculpture, and installation. While well known for his performance that subjected his body to potential or actual violence, he was prolific in the creation of work over many decades. This seminar will provide an overview to Burden's practice, and discuss copyright strategies that the Burden Estate uses to continue to spread awareness of Burden's work, while protecting the Estate's assets.
Yayoi Shionoiri serves as Executive Director to the Estate of Chris Burden and the Studio of Nancy Rubins, where she is responsible for stewarding Burden's art historical legacy and promoting Rubins' artistic practice. As a published specialist on art law, she is respected for her application of intellectual property law to art issues. In the past, Yayoi has served as General Counsel to Artsy, Associate General Counsel of the Guggenheim Museum, and Legal Advisor to Takashi Murakami.
Part 2: Tracy Bartley – Legacy Planning with Living Artists
This seminar will cover the practicalities of studio organization and prioritization of assets, database options, categorizing work, options for archives, and choosing an executor, using tangible case studies.
Tracy Bartley is the Director of the R.B. Kitaj Estate. She holds degrees in painting and art conservation. From 1998 until 2007, she worked as the studio manager for Kitaj, and upon his death was named Director of the R.B. Kitaj Estate. In 2015, she founded the non-profit R.B. Kitaj Studio Project. With experience in estate planning, studio management, and the formation and operation of artist endowed foundations, Tracy currently consults with artists and estates around issues of legacy.
Part 3: Julia Schwartz – Thinking About Building a Legacy
This lecture provides an overview of steps that artists, artist's family members, and estate managers can take to effectively organize a studio with eyes toward the future. Topics include: establishing legacy goals, documenting artwork, understanding long-term expenses, conducting oral histories, steps to take now, and building a community network.
Julia Schwartz is the Director of Administration and Development at Artists' Legacy Foundation. Artists' Legacy Foundation is a multi-artist-endowed foundation that stewards the legacies of deceased artists and supports living artists through grants and educational programs. Schwartz manages the Foundation's award programs, talks with artists about estate planning, and builds sustainability models for potential Legacy Artists. Schwartz received a Bachelor of Science in design at UC Davis, and has worked as a consultant to artists and arts nonprofits since 2005.
Part 4: Chelsea Spengemann – Introduction to Multimedia Artist Estate Management
Referring to tangible examples, topics include film preservation projects, collaborations with museums, and general collection management issues for an unendowed, multimedia artist estate. Students will consider the value and challenges of activating historic installations, performances and archives for a contemporary audience and consider recent trends in media preservation.
Chelsea Spengemann is the Director of the Stan VanDerBeek Archive. Spengemann has worked with the VanDerBeek family since 2008 helping them manage an estate comprising film, video, painting, collage, drawing and extensive artist papers dating from 1949 through 1984. As director of the Archive, Spengemann has overseen installations and acquisitions of VanDerBeek's work at the Whitney Museum of American Art and the Walker Art Center, among other venues, while steadily working through the restorations of numerous VanDerBeek films.
Disclaimer: This recording and the information presented herein do not constitute legal advice. Please use for informational purposes only. All rights reserved.